I am so excited to share a treasured part of our home with you today! When Chip was three, we needed a strategy for him to use to calm down and regain his self control. A place for him to go to just be while he processed his emotions in a healthy way. Taking a time out provided a break but didn't do much for helping him figure out what he was feeling and why. When Coco suggested creating a Peace Corner, I was skeptical this would "work" but I was also desperate for something new so we tried it!
It's now been a part of our family's rhythm for five years, and while our Peace Corner has gone through many renovations since 2017 (because as you know, kids raised in the same house, in the same way can be very very very different) it has been a constant source for building emotional intelligence by enabling the boys to recognize their feelings and discover ways to get themselves back to a calm and peaceful state.
Creating Your Peace Corner
First, pick a comfortable and calming space. A table isn't always necessary but seems to be a good place to store things for our family! We started with a few books on peace, a mini sand garden, a yoga poster and a home made calm down bottle.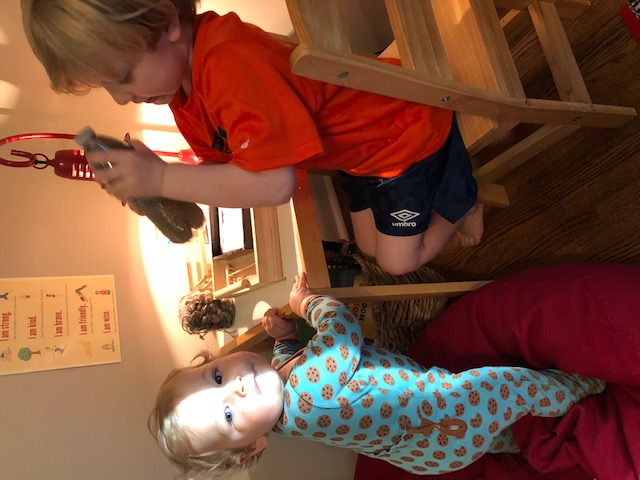 Chip has always been a fan of the calm down bottle and yoga while Banks could spend all day raking sand and listening to music. If you're not sure how your child calms down, introduce one strategy at a time and see what they learn to love.
After the second update to the Peace Corner we added a rock labyrinth, feeling rocks, and more books. I love the pictures in this peace book, but the ones that are actually used the most in our home are the following:
Emotion Rocks are simple but powerful. We found some small rocks, painted them, then used a chalk marker to draw faces on top. We started out with the following feelings: angry, scared, annoyed, hungry, happy, silly. As children are learning language to express their feelings, these rocks can help give them words to describe what is going on inside them!
Rock Labyrinth– When I worked for Pepperdine we would go on mandatory Soul Care Retreats! This is where I was first introduced to walking labyrinths that look a lot like the picture below.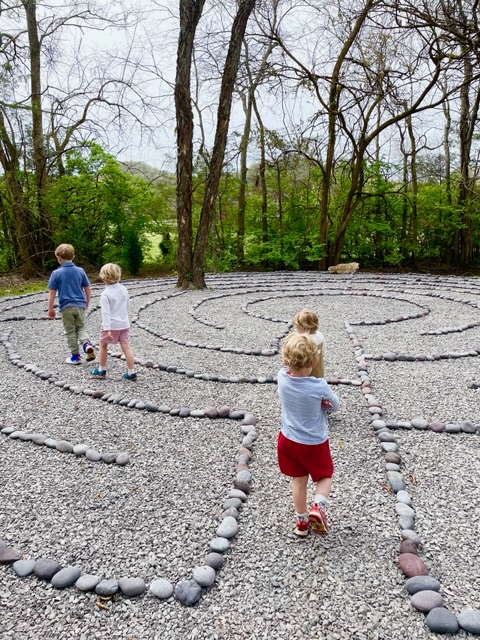 The Peace Corner rock labyrinth is Chip's favorite activity by far! Unlike a maze, which is designed to confuse and lead you to dead ends, a labyrinth is a spiral course that has a single, winding , unobstructed path from the outside to the center. Following a labyrinth helps children to relax, concentrate, and feel secure.
Today, our Peace Corner is aimed at my two and four year old and looks different than it did in 2017. Currently, my four year old loves using this Big Feelings Pineapple from Learning Resources. He makes different faces on the pineapple, then we talk about a situation where he has or may (in the future) experience those feelings!
One of my favorite additions is this hand stitched fruit (made by Coco) .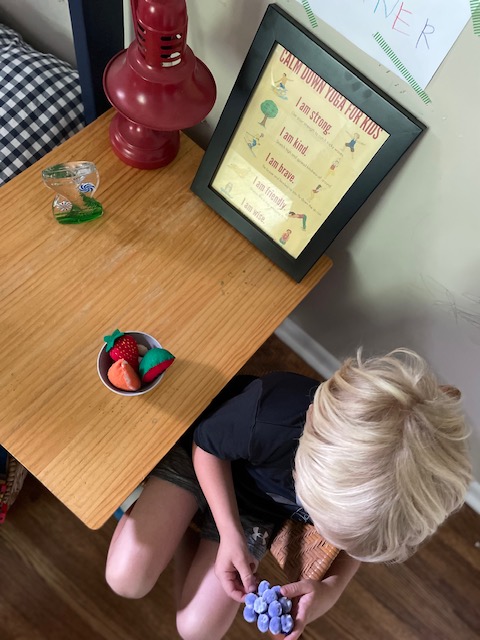 It gives the boys something to play with and hold while we talk about what Fruit of the Spirit seems to be missing in that moment. Sometimes they know immediately what is missing…patience! Other times it takes them a while to figure it out. This squishy fruit would also work really well!
The possibilities are endless! But the point of this is to be a self-teaching resource for your child. As they grow, they begin to realize their triggers that can tempt them to lose their self control. At first, my boys only used the Peace Corner to calm down after losing their self control, but now it has started to become a place they go when they feel they may be headed in the direction of losing self control and they want to choose a different path.
I know a Peace Corner won't fix every problem in the world but if we can teach our kids strategies NOW (when they are in preschool) imagine how healthy they could be in dealing with their even bigger emotions later in life.