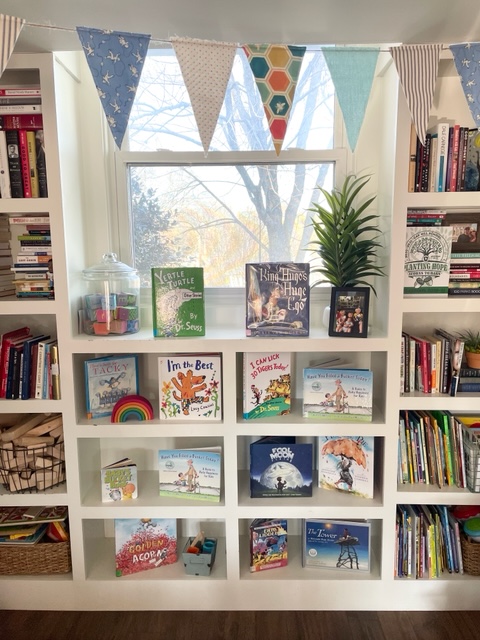 The concept of being humble seems more challenging to teach my little ones than previous WOW words such as obedience and courage which are very straight forward. But I am beginning to realize that perhaps at the preschool age, we are simply laying a foundation for a humble future. Teaching children how to give compliments to others and not bragging about how great they are gives them skills to engage friends in conversation and helps to nurture a humble heart that values others more than themselves.
So, how do we get our kids to want to read and listen to these WOW Word books instead of insisting on reading Paw Patrol or Who Would Win for the 100th time?
Well, in our house, it's all about choices! When they wake up early on a school day, and I am having quiet time on the couch, I invite them to pick out a WOW Word book and sit by me quietly until I am finished. (This is usually my five minute warning!) Then, we snuggle under a blanket and read the book they have chosen that focuses on our WOW Word. Before naptime we read more books. I invite them to pick out another book about our WOW Word and one book of their choice! I also throw in this request before bedtime. When the options are: go to bed or read a book…reading wins every time!
The following books have been great additions to our focus on humility this month!
<
The easiest books that helped my boys understand humility were King Hugo's Huge Ego and I Am the Best! Those are my top picks for our youngest readers! Have You Filled a Bucket Today is a classic and a wonderful illustration on what giving compliments and doing kind acts of service does for others. It even comes in a board book for babies! I Like Your Buttons is also a very simple way to teach kids that we can always find something kind to say to others.
My personal favorite is Fool Moon Rising; how someone created this story is beyond me, but it is truly remarkable. If you read Yertle the Turtle, don't forget to also read The Big Brag at the end of the book! Lastly, we loved learning the true story of Olympic gold medalist, Eric Liddell, whose story is depicted in the movie, Chariots of Fire. I know there are other great books out there on being humble! Please let us know your favorite.
Lastly, try and ask one question while you are reading with your child. It could be something that targets listening comprehension such as, "Wait! What's happening here?" Or, a question that encourages children to share something about themselves, "Who are you, in this story?" Mamas, don't be afraid to answer this one too!