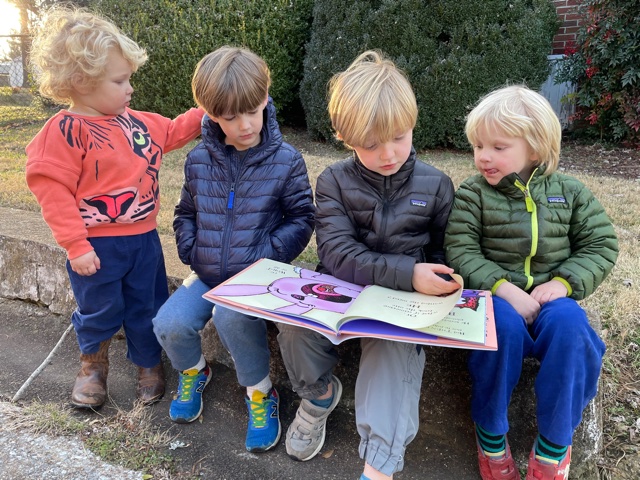 There are so many exciting topics this month. We couldn't pick just one, so we included them all! Starting with Love (our WOW word), on to Valentine's Day, then sheep to compliment the Good Shepherd, and amazing heroes for Black History month!
For books that do not explicitly say LOVE, I like to ask the boys, "Who showed love in this story?" This 'Wh-Question' accomplishes so many things! First, it tells me about their comprehension. Do they know that a question beginning with the word Who should be answered with a character? (In typical children's books this is usually a person or an animal.)
Second, I get to see what types of action or words they think show love! When I asked this question to our four and seven year old after reading, "Click, Clack, Moo, I Love You" the seven year old quickly shouted the obvious answer. But the four year old also found a character who shared their chips and salsa which showed they were thinking about someone else, he added! For a bookmark with more questions to ask your child before, during, and after reading, join our email list.
As an SLP, I have always been amazed at Temple Grandin, (a trailblazer in the world of autism) so when we discovered she had a children's book, I could not wait to get my hands on it! How to Build a Hug is just as wonderful and insightful as I thought it would be. Read more about Temple here. Chip and Banks adore this book-I truly think the excitement a caregiver conveys is contagious to a child!
I could go on and on about these books. Every single one is precious! I hope you will take time to share and enjoy these with your child this month. If you have a book that would make a great addition to this list, please leave a comment!