Last week I got to hear Dave Thomas speak on resiliency in children, and I was so encouraged by his thoughts on positive reinforcement. He said that rewarding children for reaching goals is different than 'bribing' them and made the connection that as adults, we reward ourselves for reaching a goal, and we should not be afraid to reward children either, especially when it comes to making progress with regulating their emotions!
Because Self Control is our goal this month, we came up with the following idea to provide consistent, positive reinforcement when children demonstrate this Character In Action (C.I.A.)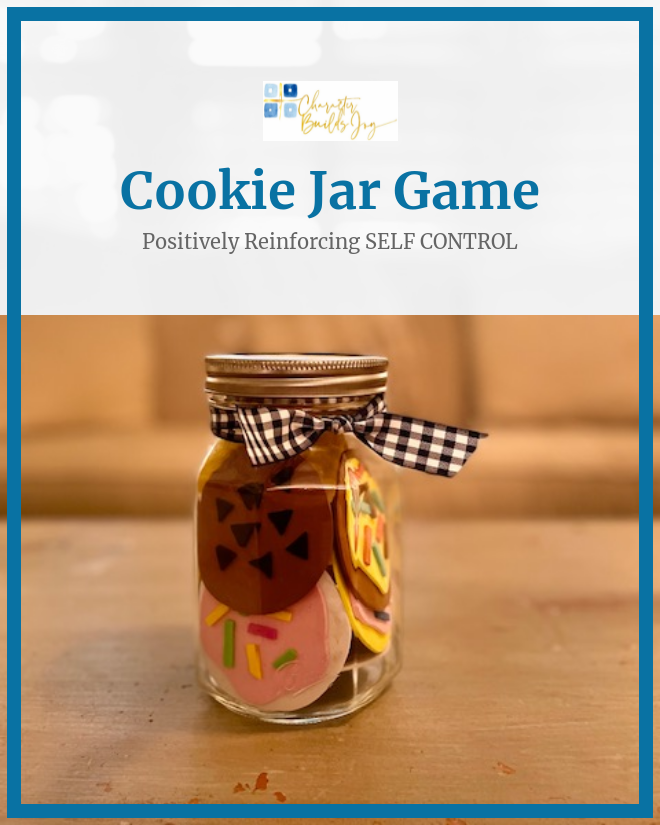 When I think about one area my boys consistently have to be reminded to use self control, sweets is the first thing that comes to mind! I explained to them that each time they are caught choosing to use self control, I am going to call it out and give them a cookie! After the jar is filled, we will have a cookie party from their favorite shop…Crumbl and The Baked Bear quickly became the frontrunners.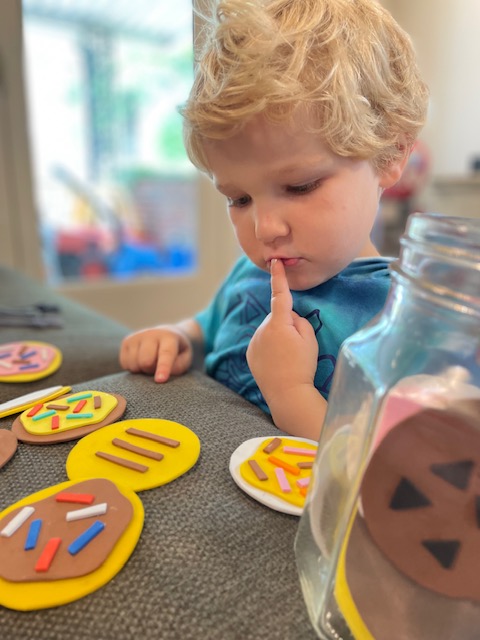 We grabbed a regular mason jar and transformed it into a Cookie Jar. Then, Coco made an assortment of foam cookies! These are elaborate and so adorable, but felt or paper would work just as well if you want to use supplies you have at home. When your children choose self control over impulsivity or anger, call it out and let them put a cookie in the jar!
For example, when our two year old knocked over the magnatile tower the older boys had just created, they were frustrated. But, chose not to yell, kick or hit which I thought took serious self control! The two year old did not get a cookie like big brothers did, BUT hours later when he was faced with the same decision…knocking over another tower or not, he used self control and came running to collect his foam cookie! PROGRESS.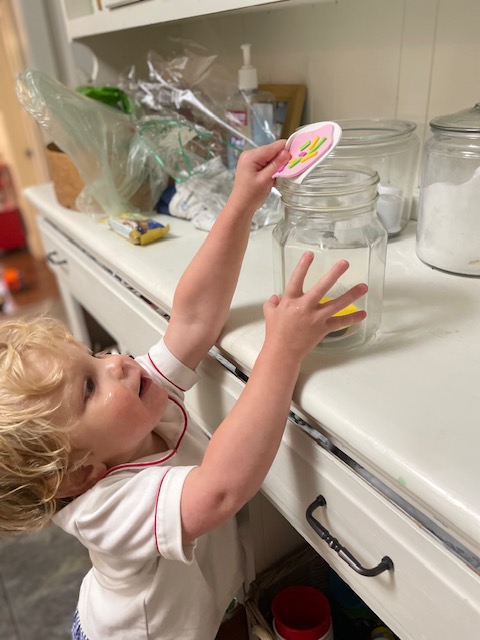 When I asked my four year old to stop what he was playing and put up his shoes, he didn't complain, but did it right away. I called out his self control to fight the impulse to keep playing and instead, obey right away.
When the older boys finished a basketball game they both gave each other a fist bump. I couldn't even tell who won! The winner wasn't bragging and the other one wasn't complaining about losing. This was a perfect chance to call out the self control I saw in them.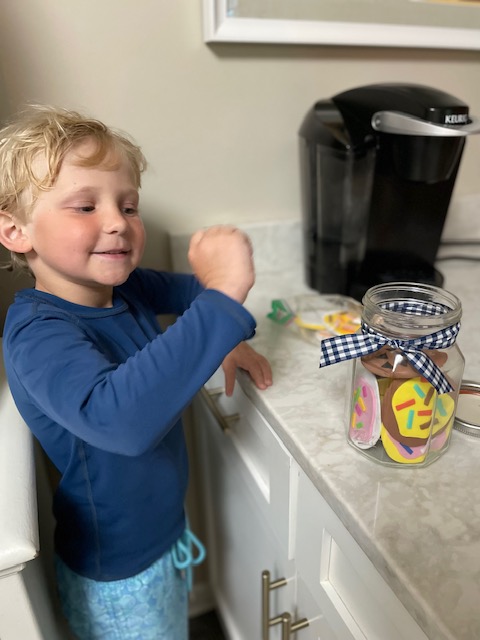 This activity was a win-win for everyone! The boys truly appreciated me noticing their positive actions and I was reminded to look and praise the good.

Sarah Cynthia Sylvia Stout
This activity was created with my four year old in mind who loves snacks! Although we have a rule no snacks in the playroom, I often make exceptions as long as they throw their trash away. But this has gotten to be a BIG problem in our house. I find wrappers and trash everywhere…the car, the floor, the yard, even in their BED. Sarah Cynthia is here to help…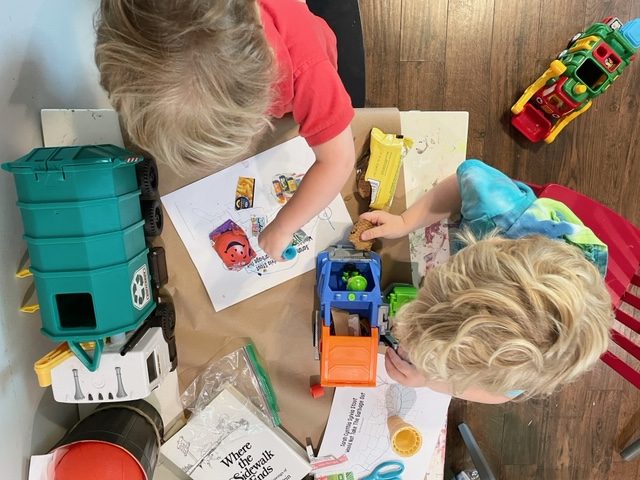 Sometimes it takes self control to do things that are not our favorite things to do. I asked the boys, "What are some chores or jobs you do around the house?" (They said things like taking our plates to the sink, putting trash in garbage can, picking up toys, and taking dirty clothes to the laundry room, etc.)
"I wonder what would happen if we just stopped doing our chores? YUCK. I don't think it would take very long for our house to get very stinky. Today we are going to hear a poem about a little girl who would NOT take the garbage out. "
As I read the first line of the poem, I could tell the boys were going to need something to keep them engaged, so I sent them each to find a garbage truck or trashcan. When they returned I had cut out these pictures Coco had made (that I didn't think I needed, ha!) and spread them out on the table. I told the boys when they saw a food mentioned in the poem, to pick it up and put it in their garbage truck.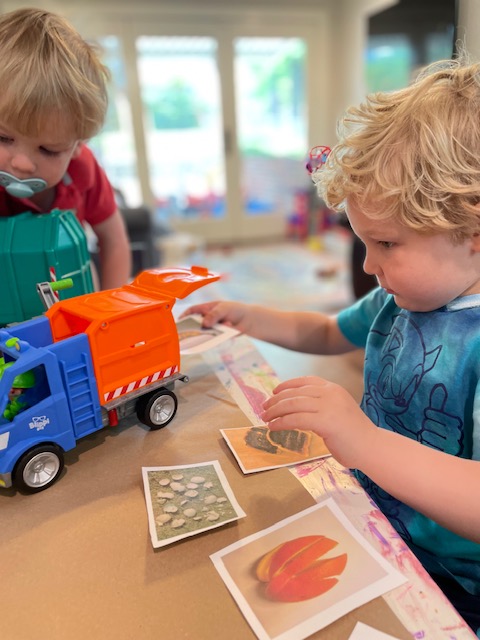 As we read the poem, the boys loved identifying the pictures of moldy foods and loading up the garbage truck. AND it kept them listening to the entire poem! After the poem was over, I gave them each a map of the United States (the one in the picture is from our curriculum) and they drew a line to show how far Sarah Cynthia's trash reached!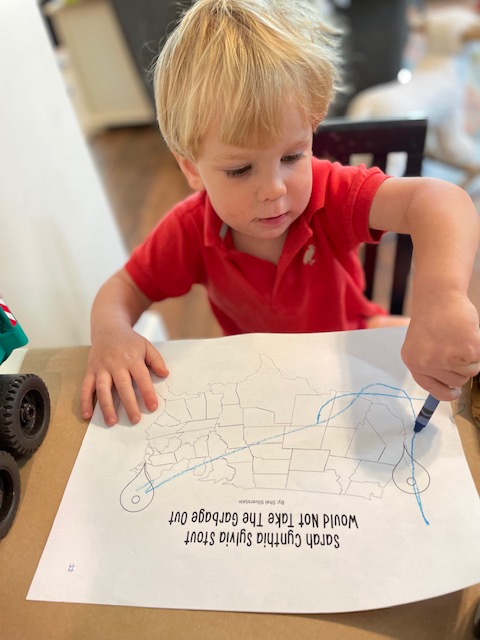 Then, they got to cut and glue real trash to their map! They also crumbled up more trash to load into their truck.
This play based activity kept them busy for almost an hour! Besides self control, this was a great opportunity to work on fine motor skills (using scissors and glue), phonological awareness skills like identifying initial sounds and rhyming words, and listening comprehension as the boys listened to the poem and identified the pictures they heard! As we wrapped up, I reminded them that when we use self control to do things we need to do, even when our impulse says something different, our hearts look more like Jesus and not Sarah Cynthia Sylvia Stout who never took the garbage out!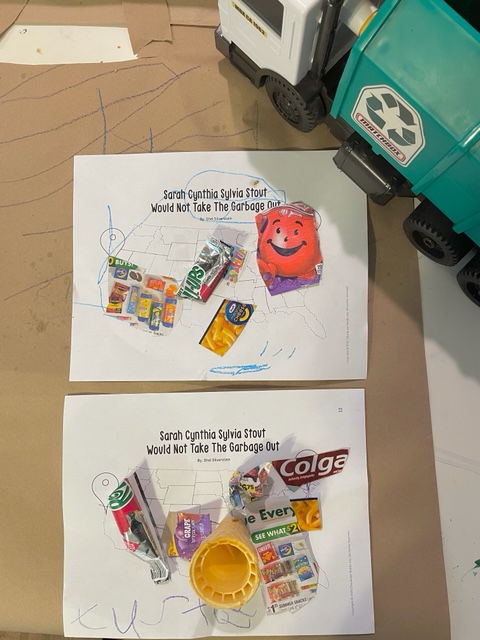 Don't forget to have even your littlest ones 'sign' their creation! Can you spot Whit's two year old name at the bottom of his map? I told him to grab a crayon and write the letters of his name, then I slowly said each letter as he made little marks. This is the beginning of early language! He is learning that letters make up words and words carry meaning. My SLP heart could not be happier.