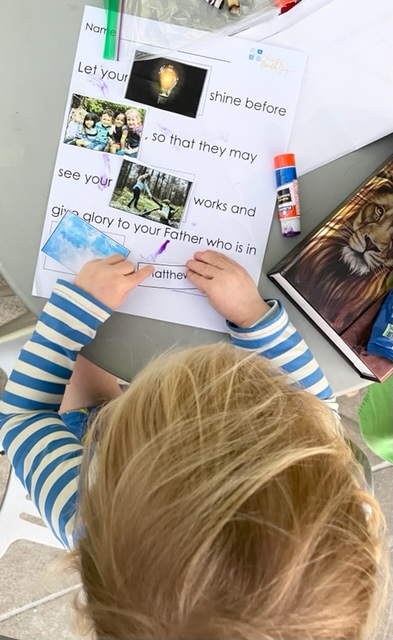 I am embarrassed to admit that when we first started this WOW Word, I thought goodness was already a big part of our daily life. EEEK. As you know, God has a way of humbling us. Our family has had many 'setbacks' since beginning our focus on this word, but as I reflected on this concept today I am wondering if what I call setbacks, God calls growth? Galatians 6:9 has provided much encouragement to me which says,
"Let us not become weary in doing GOOD for at the proper time we will reap a harvest if we do not give up."
So, here we are…growing goodness in our children (and ourselves) even when progress does not follow our desired timeline. Are you ready to grow?

First, it helps to have a kid friendly definition that we as mamas and kids can continue to reference over the month. Goodness is choosing what is right and fair. Good choices cause good feelings in others and ourselves. These good choices come from the goodness in our hearts.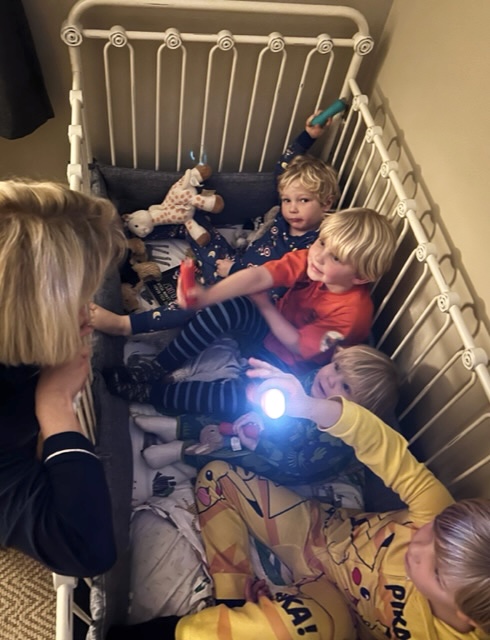 I introduced my boys to this word and verse at bedtime! As long as I don't wait too late, a calm activity at night is very popular in our home, since it inevitably prolongs bedtime!
Gather up your flashlights, get everyone into one room and turn off all of the lights. Then, tell kids not to turn their lights on until they hear their name. (I took turns saying each of the boys' names followed by Matthew 5:16.) "Banks, let your light shine before others, that they may see your GOOD deeds and glorify your Father in Heaven."
After all of the flashlights were on, they loved swirling the light over the dark walls of the room! Then, I asked: What are good deeds?
They responded with, "Holding the door for someone, asking someone to play, not hitting." Yes! Does the Bible say when we do these good things others will praise US or Him? HIM! The reason we do good is to point others toward Jesus.
These good deeds the Bible is talking about come from the goodness in our hearts. Goodness is a fruit of the Spirit. That means if we want to grow in goodness, we can't do it on our own, we need the Spirit's help. Let's pray for that right now. (We said a short prayer.)
God is so good. He has made us in His image, which means our hearts are good! Now, do we always make good choices? Of course not, but our good Father, created us with a good heart, He gives us good gifts, and when we do good to others, we are more like Him! To have goodness is more than just being good, it's also about sharing goodness (good things, good words, good actions) with others! So, what is our new WOW Word? GOODNESS!

To wrap up sing This Little Light of Mine or God is So Good! Banks requested that we sing King of My Heart, but I was not prepared to sing that one acapella!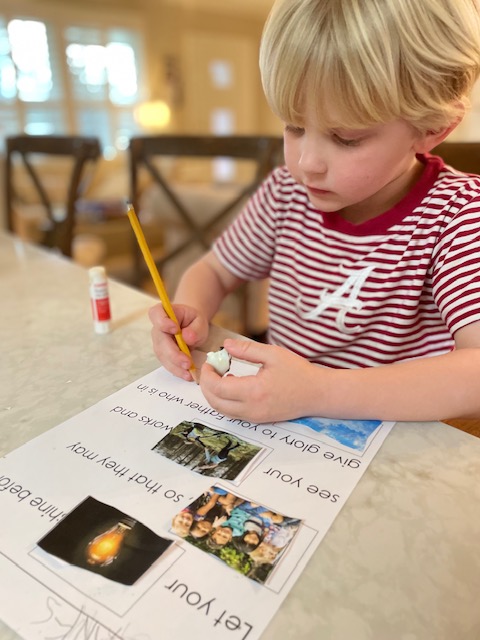 The next morning I had this Bible Verse waiting on them to complete at breakfast. Banks was all in, but Justice and Whit had other plans. I always want learning God's word to be something they enjoy doing, so I let them make choices about when to complete the activity.
Since they are 2 and 3 years old, I cut out the pictures, placed in a baggie, and threw them in my purse with a lost glue stick. Later in the week, I was sure there would be an opportunity to complete this activity, and I wanted to be ready! Sure enough, while waiting at Banks' swimming lesson, where screens were "not an option," the boys decided it was the perfect time.
Are you feeling overwhelmed? Too many steps? The truth is that the ten minutes you spend preparing for this activity can give you direction and peace for the entire week. In any sticky situation that may arise, ask your child (or yourself) is this a GOOD choice? Are you letting your light shine? No lectures, no yelling, just pointing them back to the goodness of Jesus.